Free Broadway career panel discussions are available to high schools and colleges through our Broadway Speakers Bureau. These seminars share information about non-performance careers in the theatre (producing, general management, marketing, company management, stage management, design, etc.) with schools around the country. Our speakers include award-winning professionals associated with many top Broadway shows and organizations such as Disney Theatrical Group, Hadestown, Come From Away, and more. You may view examples of several remote sessions below. For more information or to schedule a seminar, please contact Blaire Townshend.
Celebrating 20 years of the Broadway Speakers Bureau program! Thank you to all of our League Members, school partners, and participants who have contributed to this program since its inception in 2003.
Opportunities For Schools Located In Or Visiting Manhattan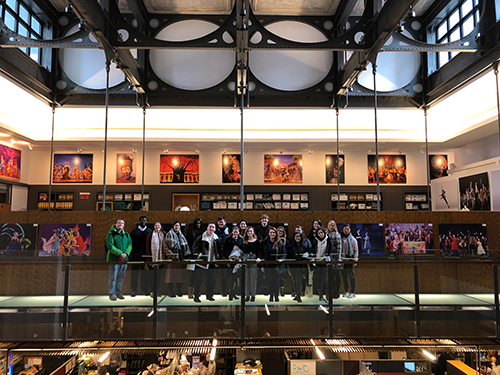 Broadway Speakers Bureau events take place either at a school's Manhattan campus or at the League's midtown offices, where our conference room seats up to 40 students. We are happy to schedule a 60-minute seminar according to your students' weekday availability and the number of participants. Students learn from seasoned professionals, and receive information about internship opportunities in theatre-industry offices as well as information regarding student ticket discounts and rush tickets for Broadway shows.
Distance Learning Opportunities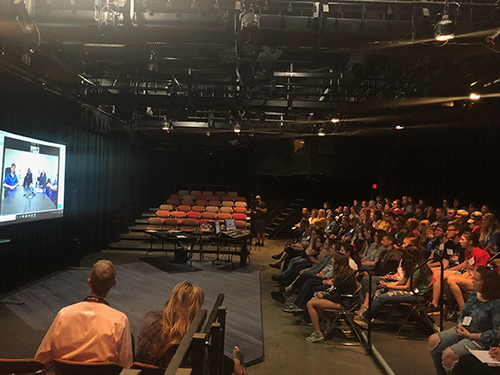 For schools based further afield, we connect students from your city with our speakers via Zoom. These events occur live, and students are encouraged to ask questions of the speakers. An unlimited number of students may attend from each participating location, and schools are encouraged to partner with other schools in their area if applicable. Technical Requirements: The interested schools must have (at the very least) an internet-connected computer with a web-cam and microphone.
Past Participants
Selected participating colleges and organizations over the last 20 seasons include Barnard College, Berklee College of Music, Borough of Manhattan Community College, Brooklyn College, Clemson University, Des Moines Performing Arts, Drexel University, Emerson College, the Girl Scouts of America, Indiana University, Ithaca College, the Juilliard School, Long Island University, Marymount Manhattan College, Michigan State University, Muhlenberg College, New York University, Omaha Performing Arts, Pennsylvania State University, Playhouse Square, Proctors, Rutgers University, Syracuse University, University of Buffalo, and the Wharton Center for the Performing Arts. The program has also included high school students at Fordham High School, Washington Irving High School in Manhattan, Waterbury Magnet School in Connecticut, Hillsboro High School in Oregon; and international students at Singapore University.
Sample Sessions
December 8th, 2020 – Managing a Broadway Show
Narda Alcorn – Stage Management
Natasha Katz – Lighting Design
Cathy Kwon – Company Management
---
February 12th, 2021 – The Producer's Perspective
Alia Jones Harvey – Producer: Ain't Too Proud: The Life and Times of the Temptations
Brian Moreland – Producer: Thoughts of a Colored Man
Eva Price – Producer: Jagged Little Pill
---
March 23rd, 2021 – Building a Broadway Show
Lisa Dawn Cave – Production Stage Management
Sam Ellis – Technical Supervision
Anna Louizos – Scenic Design
Neil Mazzella – Hudson Scenic
Frank Swann – Production Management
---
April 9th, 2021 – The Theatre Owner's Perspective
Dessie Moynihan – Creative Projects: The Shubert Organization
Todd Rappaport – Marketing: The Shubert Organization
Tammie Ward – Theatre Operations: The Shubert Organization
---
June 7th, 2021 – Designing a Broadway Show
Jane Cox – Lighting Design
Cathy Kwon – Company Management
David Zinn – Costume & Scenic Design