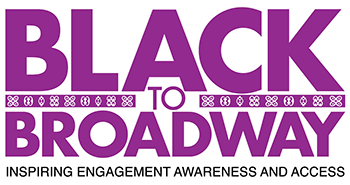 The goal of Black to Broadway is to inspire deeper engagement with, awareness of, and access to Broadway for all Black people. Created by The Broadway League in 2019, and originally called Let's Do Broadway, this initiative is an industry-wide celebration of the Black community on Broadway—on stage, in the audience, behind the scenes, and as leaders in the Broadway community.
Upcoming Events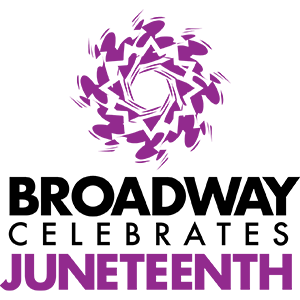 June 19, 2022 from noon-1:30pm in Times Square. Read more.
Past Events
Curtain Up - It's "Play" Time
September 18, 2021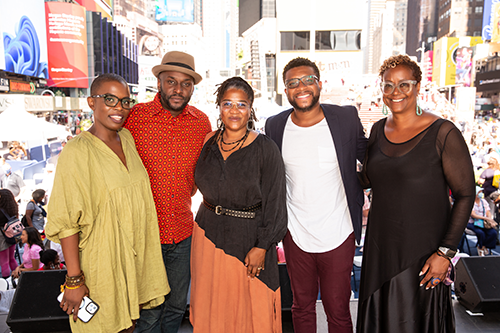 Photo by Jeremy Daniel
Black to Broadway – It's "Play" Time was a panel event that took place on September 18 at the Curtain Up! Celebration in Duffy Square. As Broadway performances resumed following the global pandemic and social reckoning that have taken place over the past 18 months, no less than seven new productions of plays by Black opened fall of 2021—including four by Black women. In this entertaining and informative live conversation we got to know some of the writers, directors, and performers who are bringing these works to Broadway stages. Participants (pictured above left-to-right) included playwrights Antoinette Chinonye Nwandu (Pass Over), Keenan Scott II (Thoughts of a Colored Man), Lynn Nottage (Clyde's) and Douglas Lyons (Chicken and Biscuits). Harriette Cole (pictured above at right), the nationally renowned lifestylist, and branding coach and Dreamleapers founder, moderated the event.
Broadway Celebrates Juneteenth
June 19, 2021
The Broadway League's Black to Broadway Initiative presented Broadway Celebrates Juneteenth, a free outdoor event centered around Black joy and unity that featured Black Broadway performers in a 90-minute concert. This inaugural event, which was sponsored by MAC Cosmetics and Broadway Cares/Equity Fights AIDS with the support of the Times Square Alliance, took place in Times Square on Saturday, June 19, 2021.
Lillias White hosted the event, with a special appearance by Ben Vereen. The program included performances from Broadway stars including Lawrence Alexander with Gary Cooper and Jaquez Sims; Jacqueline B Arnold; Nick Rashad Burroughs; Bongi Duma; LaVon Fisher-Wilson; Amber Iman; André Jordan with Ravi Best on trumpet; Crystal Joy; Stanley Martin; Anastacia McCleskey; Ray Mercer & Lion King Cast Members; Janinah Burnett with Keith Brown on piano; Keenan Scott II, Britton Smith & The Sting; Kimber Elayne Sprawl with Matthew Frederick Harris, Marc Kudisch, Tom Nelis, and Austin Scott; and Richard Riaz Yoder.
The creative and production team included Steve H. Broadnax III as Director, Daryl Waters as Music Director, Nzinga Williams as General Manager, and Cody Renard Richard as Stage Manager. The Broadway League was the executive producer of the event. Brian Moreland and Aaliytha Stevens are Co-Chairs of the Broadway League's Multi-Cultural Task Force.
Kick-off Event
October 2019
Our invitation-only kickoff event in October, 2019 drew more than 200 African American leaders and influencers to the National Geographic Encounter in Times Square. Attendees included community leaders, social media experts, restaurateurs, and board members of dynamic organizations, as well as Broadway personalities. Jelani Alladin served as master of ceremonies, and Harriette Cole moderated a panel discussion with Denée Benton, Derrick Baskin, Lynn Nottage, Phylicia Rashad, and Paul Tazewell. Prominent local Black-owned restaurants provided food and drink.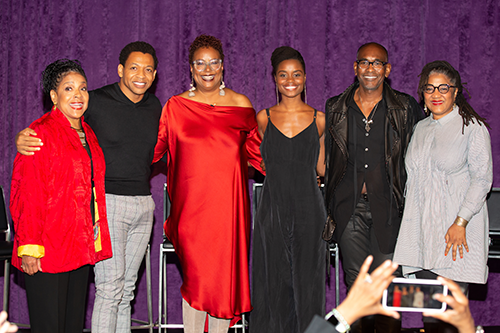 Photo by Jeremy Daniel
View more photos from the event.
Videos
Playbill's Felicia Fitzpatrick talks representation with Black actors now on Broadway.
Our recent #MyBroadwayStory videos spotlighted Black artists working on Broadway.